How is project management applied in the healthcare industry?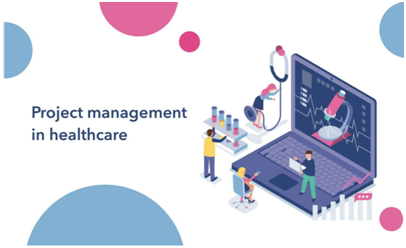 Project management is used across millions of cases in the healthcare industry. Projects can aim to improve patient care, enhance effectiveness, reduce errors, cut costs, improve record-keeping, or optimize any other part of the organization's operations.
Here are some examples of how project management in healthcare can help:
• Patient experience from hospital admission to discharge: Good project management can help ensure the patients feel secure and get adequate attention right from the moment they enter a healthcare facility until they are discharged. Project management can help create a template to provide immediate approval of medical aids such as air ambulance, etc. This can help make the patient reach the healthcare facility faster. Thereby potentially improving the chances of survival. Project managers can help create a standard requirement for air ambulance permission like distance from buildings, size of the landing space, procedures, approach, etc.
• Holistic patient care: Project management can help healthcare organizations provide comprehensive and good quality care to their patients. Such as, a project can be organized to assess if there are enough safe rooms in the psychiatric facility. In case it is determined that the hospital does not have adequate areas to care for and monitor psychiatric patients, a project can be created to design, plan, and build the number of safe rooms required. Alternatively, project management is beneficial in designing an improved hospital gown that is easy and comfortable for the patients to wear, as well as, is appropriate for the doctors who are treating or examining the patients.
• Improving operations: Good project management practices can help improve administrative efficiencies, such as fastening insurance claim processing, reducing paperwork, automating processes, etc. Project management can also be used to enhance efficacy in invoice filing by temporary workers by establishing standard invoices and processes that reduce errors. In other instances, project management is useful in accelerating operating room use and improving consistency in start times. Project managers can set specific rules for – prepping patients, staffing operating rooms, assigning surgeons, creating surgery schedules, etc., – to reduce the delay in operation start time. Besides, project management is also beneficial in automating or standardizing how the maintenance department is informed about mechanical breakdowns and how the department responds to the concerns and resolves the issues.
• Record keeping: Project management practices help to upgrade tasks such as electronic record-keeping to help hospitals safely secure and easily access all information related to a patient. Project management practices also consistently apprise and upgrade the facilities to adopt other improved information technologies in their functioning.
Recommend

0

recommendations
Published in General, How-To, Project Management