How is E-commerce Project Management a Key for Revenue Growth in Ecommerce Businesses?
E-commerce or electronic commerce is the act of electronically buying or selling of products or services over the internet. E-commerce projects must be handled very carefully as they are bound to dynamic changes that need to be addressed on time. E-commerce projects need to follow a robust development cycle backed up by effective strategies to deal with the problems at every phase of the project.
A study conducted on the PMI revealed that an average of 56% of IT projects is completed on time and that 60% of them use the resources correctly. 14% of projects are failures while 70% reach the goals set. It is estimated that of the total $100 million cost invested in these IT projects $9 million are lost due to poor project management. (Foucault-Dumas, 2018)
For e-commerce projects, the overall revenue loss is much higher due to the inefficient way of handling projects. As for these projects, it is necessary to perform periodic site updates, including customer feedback, new product release, new features updates, customer inquires and suggestions, tech issues. So if all these factors are not addressed in time will lead to project failures and a major revenue loss for any organization. An E-commerce project manager needs to possess knowledge about every e-commerce technicalities. This may involve knowing and choosing the right e-commerce platform. The manager must be proficient to use Business Intelligence tools for inventory management, CRM, and human resource management.
Framework for E-commerce Project Management – The e-commerce project manager must know and implement each of the below-mentioned e-commerce project phases accurately: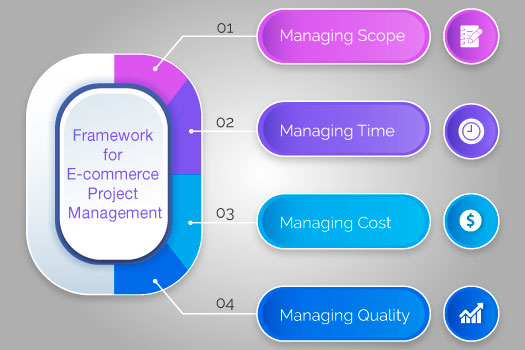 Managing Scope
Ecommerce projects have dynamic scope changes due to new client changes coming up frequently. This can be resolved by building the e-commerce project in iterations. During the project inception stage, the client must be guided to set a clear objective about the project. They must be helped to build a scope document that includes all their requirements and also makes it easy for the tech team to work on it. Any additional changes requested by the client after the scope document is fixed must be worked upon on the next sprint.
Managing Time
E-commerce projects must be built on an architecture that helps with quick development and maintenance fixes. As time is the most important factor in e-commerce the projects must be delivered on time and with the highest quality. So the project manager must handle the project in a way that it should be delivered on time and also doesn't go over the budget. For this, he needs to discuss with his team of experts about incorporating the latest project frameworks to be used.
Managing Cost
For e-commerce projects, every project iteration must result in the steady growth of the project along with reduced project reworks. This can be achieved by accurately estimating the cost of the project. While doing so, the manager needs to consider the time taken for fixing design flaws, code errors, fixing bugs, maintenance, etc to deliver a quality product within the estimated budget at the end of the project.
Managing Quality
The factors which are important to determine the success rate of any e-commerce project can be quick website loads, handling the customer's queries, responsiveness, and scalability. By meeting all these factors successfully helps the team to build a high-quality product. Also getting regular feedback from the client after the project phase release helps the team to know if they have built the product as per their expectations.
E-Commerce Project Methodology – The e-commerce projects must use the latest project model to have a successful project delivery. Let's look at the popular models used:
Agile Model – This is the most widely used project model, in this model the importance is given to the customer at every project phase. The project is broken down into small sprints and small parts of the project are completed and shown as a demo to the client. This saves both time and cost as changes are done at every phase.
Lean Model – The lean model focuses to deliver small versions of the final product with every project cycle. This model helps e-commerce projects to be delivered with improved project quality. This model does not waste more time in unproductive product meetings and helps to build a prototype with improved customer experience.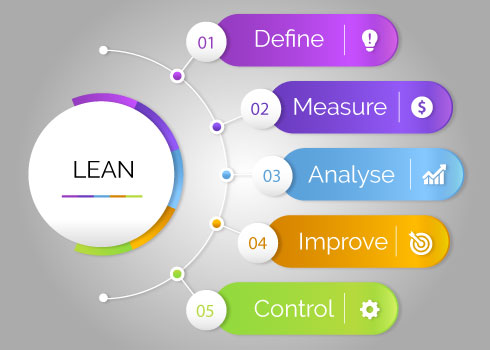 DevOps – Organizations are looking for an advanced project model that integrates the strength of agile and the lean model. For this, they use the DevOps that give them a competitive advantage over both the models and help to deliver quality-driven projects within a short period. It has the benefits of improved customer experience, quick problem resolution, improved collaboration, superior and reliable security.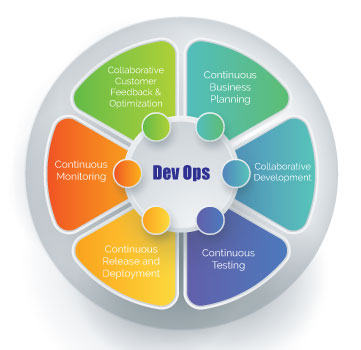 So these are some of the factors if taken care of can help e-commerce projects to bring in positive revenue growth in e-commerce businesses.
References
Foucault-Dumas, C., 2018. Only 56% of IT companies' projects meet their deadline. [Online] Available at https://www.ictjournal.ch/etudes/2018-02-20/seuls-56-des-projets-des-entreprises-it-respectent-leur-delai [Accessed 8 October 2020].
Recommend

0

recommendations
Published in Agile, Performance, Project Management, Team