Top 7 Strategies to Manage Multiple Projects

Managing multiple projects is often seen as a challenge in many organizations. This is due to the lack of coordination and proper planning of the projects. Organizations with huge budgets often hire larger teams to handle projects. The problem is often faced by smaller organizations where the burden of managing multiple projects depends on a few people. This kind of expectation results in unrealistic project deadlines and poor quality of the project delivered. So let's focus on some of the top 7 strategies on how to handle multiple projects effectively:
Set Priorities
Setting project priorities and knowing how to manage them is very important, as this helps the team to know which tasks to finish first. So not all tasks will be of top priority in every project. It's crucial to decide and brainstorm the top tasks and assign accordingly to get things moving faster. Also, this boosts the team's morale when they mark tasks as "done" from the "in-progress" state. By setting priorities, the manager and the team are on the same page of achieving the project goals. (2020)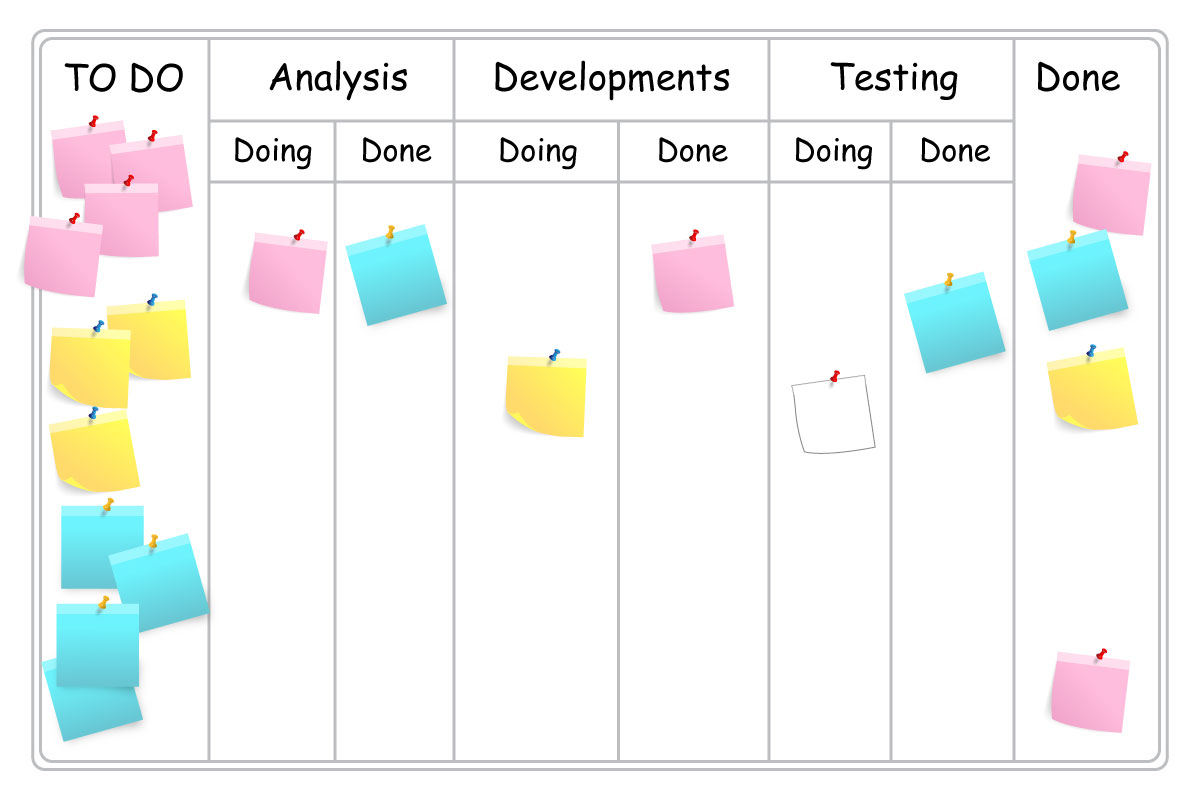 Delegate Tasks
Eli Broad, founder of two fortune 500 companies, says "The inability to delegate is one of the biggest problems I see with managers at all levels."
Often project managers commit more than what they can handle. Here the manager needs to forecast the team's strength and the limits and judge if they can successfully deliver the project on the promised deadline. The project must be delegated effectively to all the team members ensuring there isn't too much workload on a single member. Having delegated tasks doesn't mean the manages is off his duties he needs to guide in them and give them confidence leading to successful project delivery. (Broad)
Avoid Distractions
While managing their assigned tasks for a project, team members are mostly seen to help their colleagues if they face any issues. So this isn't a bad thing, right? but this should not be done at the cost of your productivity and performance. This is where one must know when to help someone and to what extent. Try and avoid replying to all the social media notifications, chats, calls that aren't of emergency, playing games, music, etc. Keep a focus timer may be of 45 mins that ensure you focus only on one the task at any given time.
Communicate with team
When we work in a team there can be cases where some of the team members are also working on other projects. So these members need to be communicated effectively the most important task they need to get done as far as the current project is concerned. This avoids confusion and project delays, as all the members are aware of their tasks. Also, tools project management tools like Scrum and Kanban provide features where any detail can be shared effectively with all the members at the same time on one platform. So this brings into transparency and all know what each one is doing in that project.
Pre Planning
Pre-planning has always been a lifesaver, whether in case of handling emergencies or managing projects. This includes the manager and the team to decide on what are the most important tasks to accomplish first and by what timeframe. They need to plan the resources, budget, change management, contingency plans all in advance to have a smooth workflow. The manager must also ensure to give the teams proper breaks to help them recharge and focus more effectively.
Review Regularly
Many times it is seen that the project doesn't work in the same way as planned earlier. So both the manager and the team members need to be flexible to adapt to changes. So after they have adapted to the new changes the project and the team's performance must be reviewed. This helps to know the stats of what the original plan was and how the new change has affected the projects. This review session helps the team to come forward and voice any concerns affecting them about the new changes. This review session can be used by the managers to reward the top-performing members thus encouraging all to give their best.
Use Modern Tools
Handling multiple projects are difficult even for the top-performing managers. They too need to get their things done faster. The project managers need to handle multiple projects, estimation of the resources, the tasks assigned, time, budget, etc. These can be performed manually but requires more time and often leads to inaccurate estimations. To avoid this they can make use of the modern project and time management tools which are a boon to both the team and the managers. These tools help to track the progress of multiple projects thereby giving a clear picture of the project workflow by just a click of a button. (Nevogt, 2020)
So these are 7 important facts the project managers need to focus on while dealing with multiple projects and people at the given time.
References
Anon., 2020. 6 Steps to Prioritize Tasks and Meet Project Deadlines at Work. [Online] Available at

https://kissflow.com/project/team/how-to-prioritize-project-tasks/

Broad, E., n.d. How Eli Broad Works 24/7–And Still Gets 8 Hours Of Sleep Every Night. [Online] Available at https://www.fastcompany.com/90549441/how-to-prevent-deepfakes [Accessed 7 October 2020].
Nevogt, D., 2020. The 10 Best Project Management Software With Time Tracking. [Online] Available at https://blog.hubstaff.com/project-management-software-with-time-tracking/ [Accessed 7 October 2020].
Keywords:
project management
online project management
project management methodology
pmo
ms project
pmbok
agile project management
project management software
freedcamp
ganttproject
project management institute
prince 2
project plan
program manager
kanbanflow
projectlibre
project scope
primavera software
microsoft project online
project management professional
ms project online
project management process
best project management software
project management plan
jira project management
it project manager
project management office
Recommend0 recommendationsPublished in Agile, Leadership, Project Management, Team